Looking Forward, Looking Back
There was no settling back into things at the start of the year with mock exams and the 11+ dominating the first two weeks back at school. Despite the wet weather, Open Morning in January was a resounding success once again.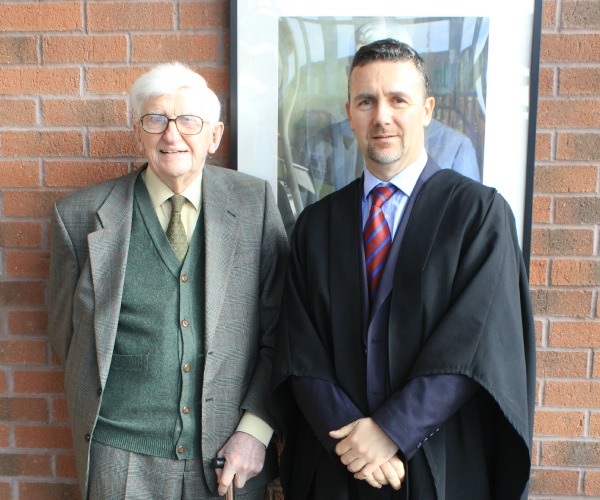 News of the forthcoming time capsule, to be buried in the grounds of the new Sixth Form Building and opened on the School's 500th year anniversary in 2060, has been excitedly received and many students have been discussing ideas about what to include. The capsule is currently acting as a suggestions box in reception and we look forward to hearing about which items have been chosen for inclusion in the project. Mr Lloyd also revealed the designs for a new sculpture that will be placed outside of chapel and announced future plans for another design outside of the new Sixth Form Centre. The basis for this plan was the work of two successful British Olympians, Jessica Ennis-Hill and Greg Rutherford, along with Felix Baumgartner.
It seemed fitting that when the school was looking forward with new buildings and sculptures, there was also time to look back and thank previous headmaster Dennis Tomlin for his thirty six years service at the school. On the Wednesday before half term, the whole school was treated to a poignant assembly dedicated to Dennis and we were honoured with his presence. I think it is safe to say that almost all in the audience were affected by the tremendous dedication that Dennis had shown and the rapturous and lengthy round of applause he received was testament to this.
Just a few days into the second half of the Easter term and school life is very busy. In only three weeks time the Senior School musical, Les Miserables, will be underway in the Bushell Hall and it looks set to be a great show with tickets selling out quickly. The cast were lucky enough to have a workshop with the current West End cast member Adam Linstead who plays Babet and the Bishop. He taught us some warm up activities and provided useful choreography inspiration for the second song 'At the end of the Day', which features the actual 'Les Miserables'; the poor and deprived.
Revision is beginning in some subjects and the proximity to the exam season is a sobering thought. The future is not so bleak with Mrs Skan's much awaited careers event taking place on Thursday 5th March. The Sixth Form are particularly looking forward to the sheer number and range of professionals coming to speak about their diverse careers. Not only this, but the Upper Sixth is rapidly becoming aware of how little time that is left here at Solihull, with preparation for the Leavers Ball and the Yearbook well on their way.