Mary Rose Experts Bring History To Life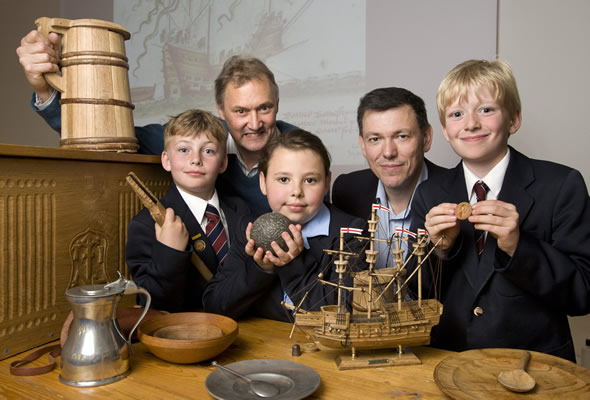 Christopher Dobbs (back left) and Professor Hugh Montgomery (back right) show artefacts from the Mary Rose to Alexander Hart (aged 10), Beth Currie (9) and Toby Bagshaw (10) during their workshop at Solihull Junior School.
History lessons came vividly to life when pupils from Solihull Junior School were visited by two of the key figures involved in the excavation and recovery of the Mary Rose.
Christopher Dobbs, Head of Interpretation at the Mary Rose Trust, and Professor Hugh Montgomery, an intensive care doctor at Whittington Hospital NHS Trust who researched the skeletons of the crew and lives in Solihull, gave a talk about their experience of diving to retrieve objects from the wreck of King Henry VIII's flagship.
They brought with them both original and replica artefacts for the 9-10 year old boys and girls to inspect including a canon shot, rope and a comb as part of a two-hour interactive workshop on what is believed to be the world's finest time capsule of life 500 years ago.
Professor Montgomery and Mr Dobbs, who is overseeing the building of a new museum for housing the Mary Rose that will open to the public at the end of 2012, talked about their view of why the ship sank and the efforts that have gone into conserving and presenting the wreck and its priceless contents.
The visit was the highlight of a special Tudor Studies week for the J3 (Year 5) pupils who also had the chance to watch the TV documentary 'Ghosts of the Mary Rose', made by the Professor Montgomery with Mr Dobbs' involvement. They also took part in a video conference with a costumed actress masquerading as a Tudor housemaid.
Christopher Dobbs said: "It was a tremendous pleasure talking to the pupils of Solihull Junior School as it is great to feel you are bringing history to life through the objects that we found on board the Mary Rose. Their questions were also quite remarkable – the most interesting that I have ever been asked after a talk!"
Mark Penney, Deputy Head of Solihull Junior School, added: "Our pupils were thrilled to meet such inspirational figures as Professor Montgomery and Christopher Dobbs and to be able to hold in their hands everyday objects made 500 years ago."
Solihull Junior School is part of Solihull School, an independent co-educational school for pupils aged seven to 18.