World-class opera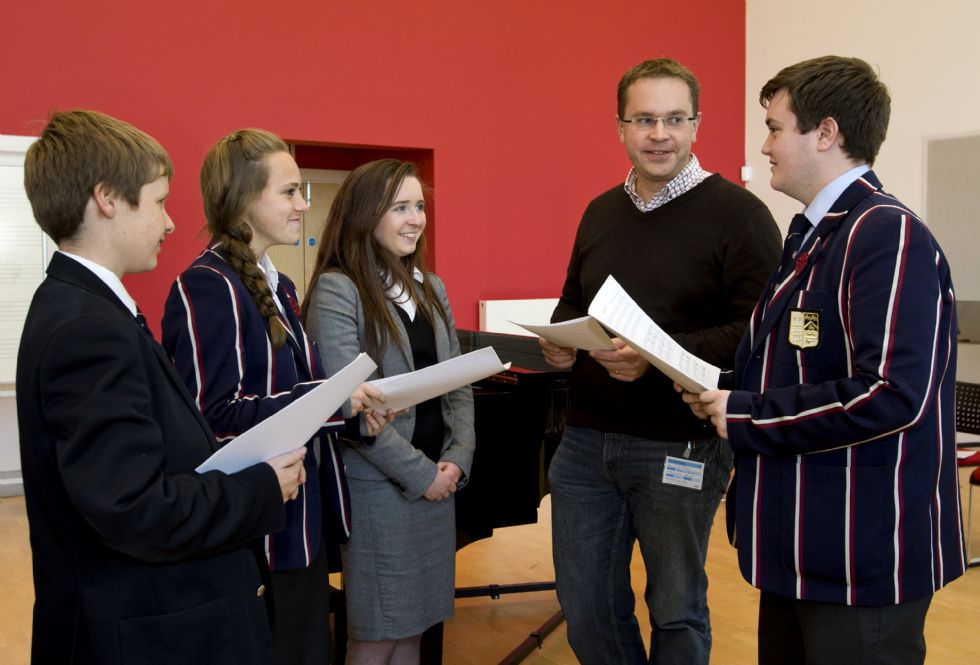 Solihull School's Chamber Choir is teaming up with the world-renowned choir, orchestra and choral group - Armonico Consort - in a pilot project for the opportunity to perform in a critically acclaimed opera.
The 50-strong Chamber Choir directed by former pupil Christopher Monks will perform 'Too Hot to Handel' alongside world-class opera singers fresh from a nationwide tour including Glyndebourne and the Royal Opera House.
The event will be held in the independent co-educational school's Bushell Hall on its Warwick Road campus on Thursday, November 8.
It will be the first time that Armonico Consort, based in Warwick, has collaborated with a school in a performance of the opera which weaves Handel's most beautiful arias, duets and choruses into a witty and touching love story in a modern English translation.
The production will also provide a homecoming for Christopher Monks who won an organ scholarship to Solihull School and went on to study Music at Cambridge University.
He became an organist at Winchester Cathedral and a keyboard player with the CBSO before founding and becoming Musical Director of the Armonico Consort in 2001.
The group performs up to 50 concerts a year, working with outstanding musicians including Emma Kirkby, Sir Willard White, Elin Manahan Thomas and Dame Evelyn Glennie.
Its original approach to performing has earned 5-star reviews in The Times and The Independent newspapers and its education programme, the AC Academy, has developed the singing skills of more than 100,000 young people nationwide.
Hailed by Opera Now magazine as "ingenious', the opera 'Too Hot to Handel' has been created by the internationally acclaimed countertenor William Towers in collaboration with Armonico Consort, in order to further the charity's aim of bringing classical music to a modern audience in an accessible and entertaining manner.
The opera has played not only to music lovers throughout the country but also many children and young people who have been delighted by its charms. Parent Rebecca Clarke, whose daughters attend Armonico Consort's AC Academy Warwick after-school choir, described how her children were 'mesmerised' by the performance, praising its 'interactive style'.
Christopher Monks said: "I am absolutely delighted to return to Solihull School and perform in its superb Bushell Hall.
"During my time at the School, I received enormous support and encouragement which I genuinely believe has been a major influence in the success of Armonico Consort.
"I hope our performance will inspire the next generation of musicians."
Solihull School's Chamber Choir is part of its prestigious 50-year-old Chapel Choir led by Organist and Choirmaster Oliver Walker, a former Wells Cathedral organist who managed the cathedral's outreach programme.
The Choir has sung at St George's Chapel, Windsor and Lichfield and Worcester cathedrals and been invited to sing at St Paul's Cathedral in February 2013.
Oliver, who is to receive a prestigious Solihull Civic Award for his popular Solihull Sings! initiative which encourages young people to sing together, said: "It is a tremendous honour for Solihull School to be invited to perform with such a renowned vocal ensemble as Armonico Consort.
"Without doubt it strengthens our reputation as one of the finest schools in the country for choral singing."
Tickets are available priced at £14.50 and £19.50 for the production of 'Too Hot to Handel' on Thursday, November 8 at 7.30pm by calling the Armonico Consort box office on 0844 338 0338 or clicking on www.armonico.org.uk
*On November 17, Solihull School's Chapel Choir will be releasing 'The Virgin's Lullaby', a CD of Christmas and Advent music accompanied by the Chapel's magnificently restored Nicholson's organ, on the Regent Records label.