World Renowned Artist Leaves His Mark!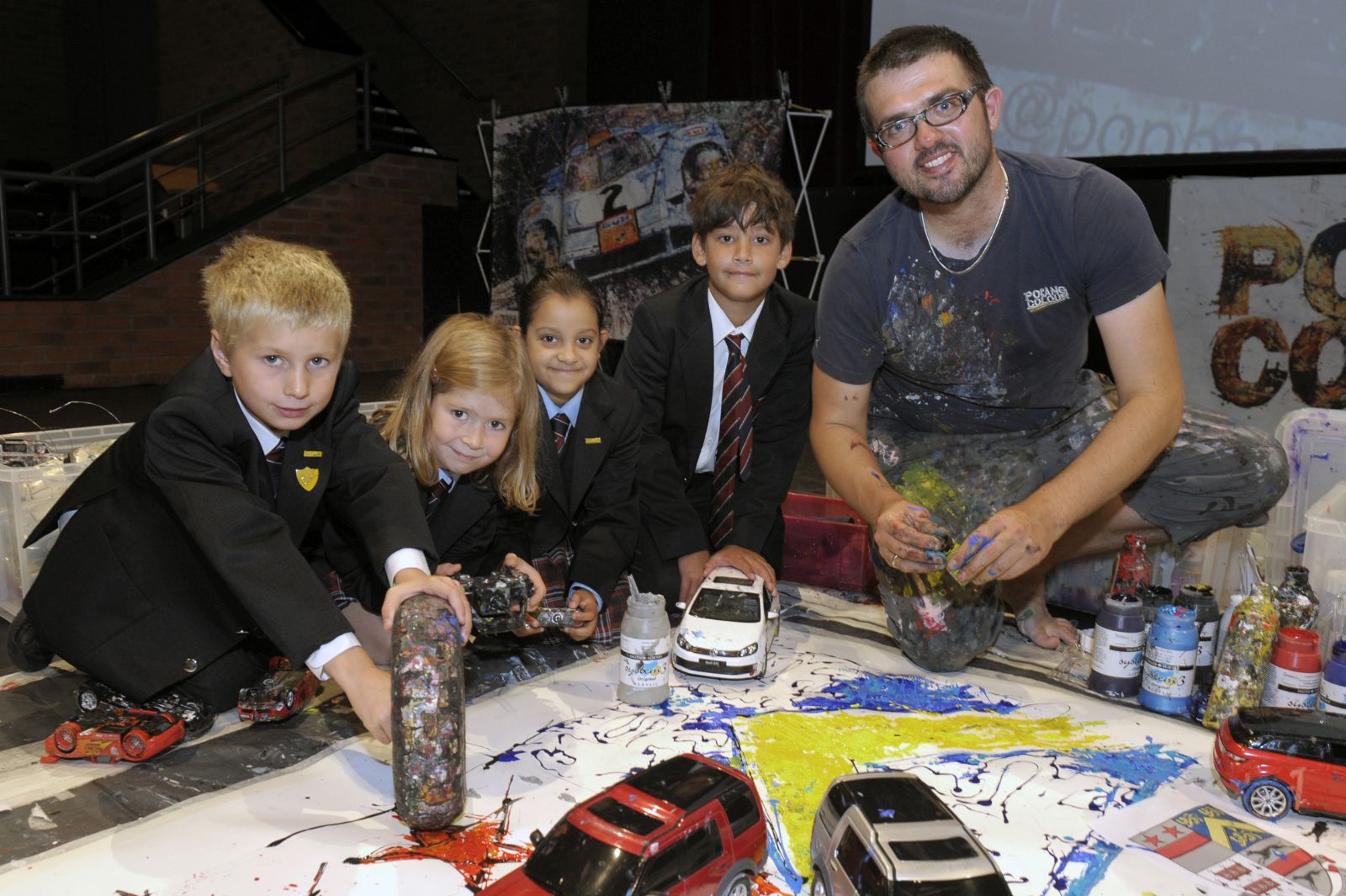 A world-renowned artist from Olton has left his mark on pupils at Solihull Junior School.
Ian Cook thrilled boys and girls in assembly by recreating the Solihull School crest in a friendly explosion of colours on canvas with his unique 'PopbangColour' style using remote-controlled cars as paint brushes.
The ten to 11-year olds also enjoyed a craft workshop with the trained fine artist and car enthusiast who helped them produce colour wheels, portraits, landscapes and car graffiti of their own using toy cars and car parts.
Ian, who is artist-in-residence at the Heritage Motor Centre in Gaydon, has gained an international reputation for his paintings, ranging from Jaguar and Land Rover vehicles in action to giant portraits of racing driver Lewis Hamilton and the Arsenal football team.
He developed his painting style by accident when he was given a radio-controlled car as a present and told not to get paint on it. It gave Ian, working as an art lecturer at Sutton Coldfield College at the time, the idea of taking the car into his art studio, splattering paint on the wheels and driving it over canvas to make pictures.
After creating at the Goodwood Festival of Speed, Ian was asked by Reebok to create a giant portrait of Lewis Hamilton for its advertising campaign - and other commissions quickly followed.
Ian said: "My workshop with Solihull Juniors was awesome - one of the best I've ever done. The pupils were tremendously enthusiastic and showed terrific creative ability."
Mark Penney, Headmaster of Solihull Junior School, added: "Our thanks go to Ian for inspiring our pupils and providing them with an unforgettable experience."