Instrumental Tuition
Learning to play an instrument is a valuable skill, which can be a life-long passion. Not only is there enormous musical and social enjoyment, and artistic and expressive satisfaction, there is also a real sense of achievement which continues beyond school. It is a long process, which requires commitment and hard work but there will be many occasions to celebrate and enjoy which make it worthwhile.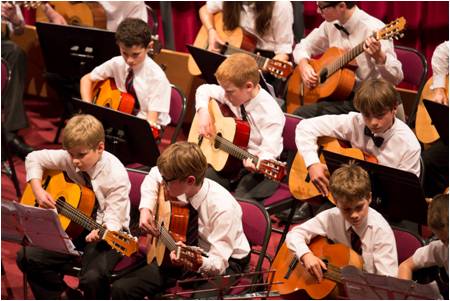 Regular daily practice is better than occasional long sessions and, in addition to practising at home, the Music School is open from 8.00am until 5.15pm to assist pupils to do this. Practice rooms are more commonly available before or after school.
Joining an ensemble will help pupils to become better musicians and develop an important social skill. They should regard membership of a group as a fundamental part of their music education rather than an optional extra; it will improve their sight reading and aural skills as well as experience a greater range of repertoire than they would just in your individual lesson. We strongly encourage all pupils to take part in ensembles appropriate to their instrument/voice and level. All pupils are welcome to join ensembles whether or not they have individual tuition here in school. Priority is not given to those who do.
450 instrumental/vocal lessons are given weekly by the team of full time and visiting instrumental teachers covering piano, organ, singing, guitar, percussion, saxophone and all orchestral instruments.
Documents covering details about the instrumental tuition scheme and an application form for lessons are available to download at the bottom of this page.
All pupils in J1 (Year 3) will receive group tuition in one instrument (violin, cello, flute, clarinet, bassoon, trumpet or trombone) as part of their class music curriculum.
We are most fortunate to have an excellent team of visiting professional musicians who are specialists in their field as both teachers and performers.
Visit the Music Staff page for a full list of our full time and visiting teachers.