Outdoor Education
Outdoor Education forms an integral part of our co-curricular provision. As with all outdoor education it is hoped that a lifelong appreciation of nature and the outdoors is formed. Team work, resilience and leadership skills are all fostered through the different opportunities that the School provides. Solihull offers a unique range of opportunities for pupils to experience the positive benefits of outdoor education. A number of these activities have been part of the fabric and heritage of the school for many years. From Terriers in the IIIrds, through to Snowdonia School in the Shells, the Duke of Edinburgh's Award, and CCF from IVths onwards, there is an opportunity for all pupils to become involved in some sort of outdoor education over the course of their time here.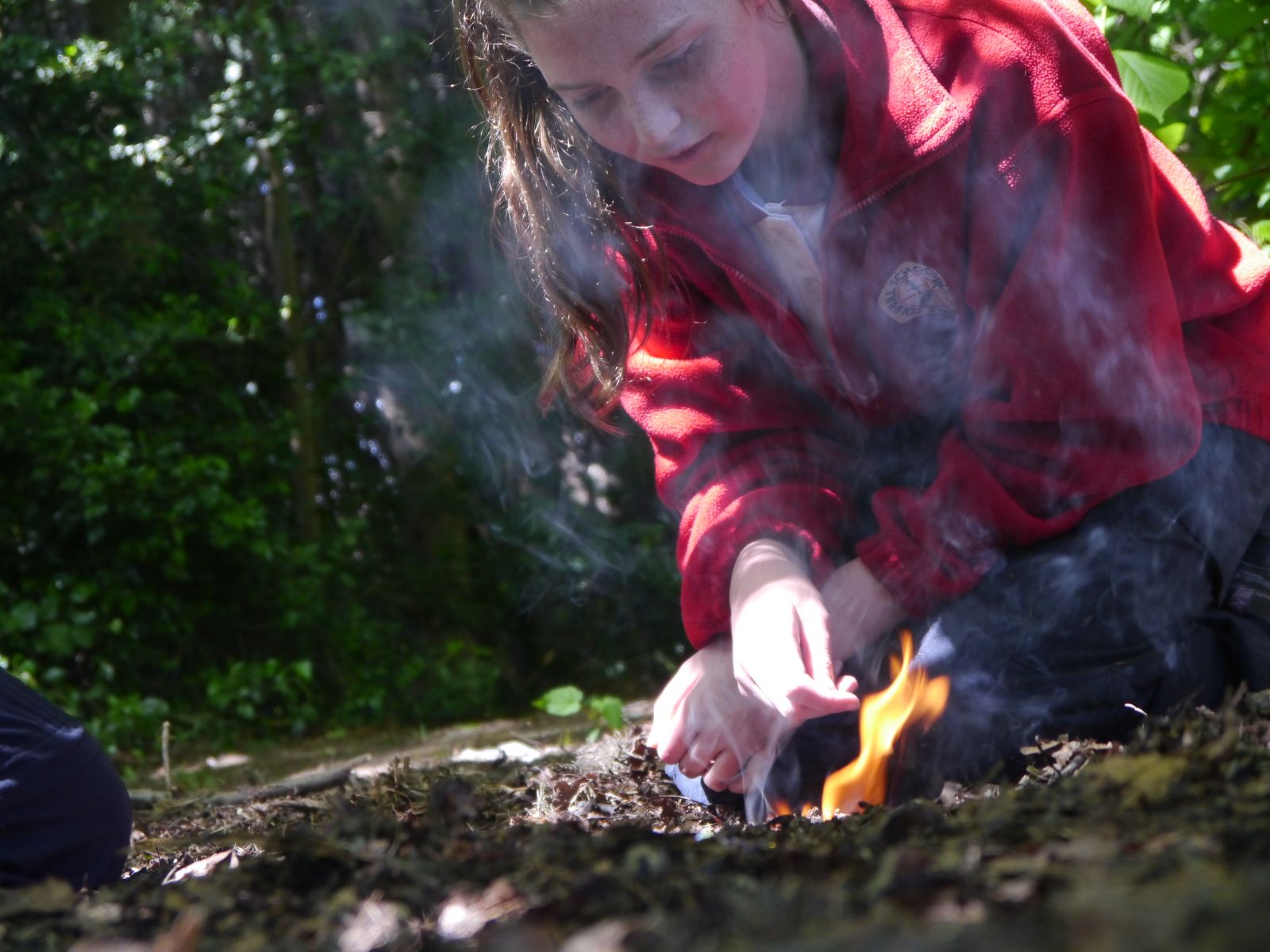 Terriers
Terriers is an activities group inside the school curriculum especially designed for both girls and boys of Third Form age. It meets weekly for two periods on Thursday and aims to extend the horizon of pupils by introducing them to outdoor activities which are not only of an adventurous nature, but also give an understanding of the countryside around us.
In the first half of the year, pupils undertake courses for the award of a First Class Terriers Certificate. In this, various skills such as basic emergency aid, road safety and cycle maintenance, map and compass work, orienteering, knots and water safety, are taught and examined. In the second half of the year pupils take part in a wide range of topics, including canoeing, camp cooking, command tasks, pioneering, climbing and Geocaching These courses are not assessed. The pupils are taught by skilled members of staff and by Sixth Form instructors who have passed as First Class Terriers themselves, in addition to having other outdoor pursuit skills.
"Terriers is a great double period of outward bound action that happens in the periods after break and lasts until lunch. You can only do Terriers in the third form so it is not to be missed! In Terriers you can climb a climbing wall, go on a mission where you have to find your way back to school from the countryside, cook your own sausages, build a fire, learn how to tie knots, canoe in the swimming pool and learn mountain craft. You can also learn command tasks where you have to use wooden planks and work as a team to cross a mud pit. Altogether, Terriers is great and I really enjoy doing it. By doing Terriers I have learned to make a fire, collect water safely, maintain a bike, but most importantly work as part of a team."

Year 8 pupil

Snowdonia School
Snowdonia School is an integral part of the academic, personal and social development of pupils in Shells (Year 8). The principles of navigation, safety procedures and leadership in the hills are taught. The geography, history and economic activities of the area are also studied. Snowdonia School is also envisaged as a most valuable education in the art of living together in a small, self-contained community. This all takes place at the school's David Fricke Mountain Cottage in Mynydd Llandegai.
There are ten Snowdonia Schools per year, two for each form and they tend to take place in October, March and June. Each one runs from a Monday to Friday and is staffed by three adults and a senior pupil. The senior pupil's role will be to act as a link between the staff and pupils, whilst adopting the role of a member of staff as far as the pupils are concerned. It is expected that each Snowdonia School will have approximately 12 students on it. You can access the dates for each Snowdonia School using the calendar in Parent Portal.

The timetable for the week is inevitably determined in part by the expertise and interests of the staff who have volunteered their free time. However, all Snowdonia Schools include outdoor pursuits, an ascent of Snowdon and a high ropes course. Other typical activities include visits to a castle, slate museum, water sports, mountain biking, river scramble and overnight camp.

Duke of Edinburgh
Overview
The Duke of Edinburgh's Award is recognised and widely adopted as being one of the best programmes for the personal development of young people. It is intended to provide for young people an enjoyable, challenging and rewarding programme of personal development, which is of the highest quality and the widest reach.
The Award at Solihull School
The Duke of Edinburgh Award scheme is well established at Solihull School. Each year approximately 150 pupils sign up to join the Award at the three levels and the completion rate is high. Usually, pupils are entered depending on their year group and previous awards:
Bronze: Year 9 (Enrolment is towards the end of Year 8)
Silver: Year 10, 11 & the Lower Sixth (direct entry if not done Bronze).
Gold: Lower Sixth and Upper Sixth (we do not allow direct entry at this level).
There are four sections to the Award at Bronze and Silver level. These are 'Volunteering', the 'Skill', the 'Physical' and the 'Expedition' sections. At Gold there is a fifth called the 'Residential'. Full details of the countless opportunities available for the various sections and the time needed to spend on them at the various levels can be found on the award website at www.dofe.org.
The Award is widely recognised by employers and people involved in education. Some of the benefits to young people include developing self-confidence and self-reliance; gaining a sense of achievement and a sense of responsibility; discovering new skills, interests and talents and developing leadership skills and abilities. They can also discover exciting opportunities; make new friends; experience teamwork, problem-solving and decision-making; increase their motivation; enhance their self-esteem and develop their communication skills. They will also, of course, have fun!
CCF
Formed in 1898 Solihull School CCF is one of the oldest cadet units in Britain. The CCF is a purely voluntary activity that takes place after school. A special period on the timetable is reserved for the NCOs (senior pupils) for their training and preparation.
There are consistently over 120 cadets across both the Army and Royal Air Force sections. We have a number of officers on staff – both male and female, as well as an SSI who was a regular NCO in the Army.
There are many exciting activities planned throughout the year. Each Section has a Field Day and an Annual Summer Camp. There are military training weekends, range days, adventure training packages and regional competitions, the majority, open to members of both sections. The RAF Section also offers the opportunity to fly both gliders and single propeller Tutors at RAF Cosford.
The CCF seeks to develop self-reliance, initiative and leadership whilst giving an appreciation of the role of the services at the present day.