Welcome To Our Virtual Open Morning
On Saturday 20 June 2020 we went 'live' on Microsoft Teams with a presentation from our Headmaster, Mr David EJJ Lloyd and Head of the Senior School, Mr Sean A Morgan.
This was followed by the sessions outlined below: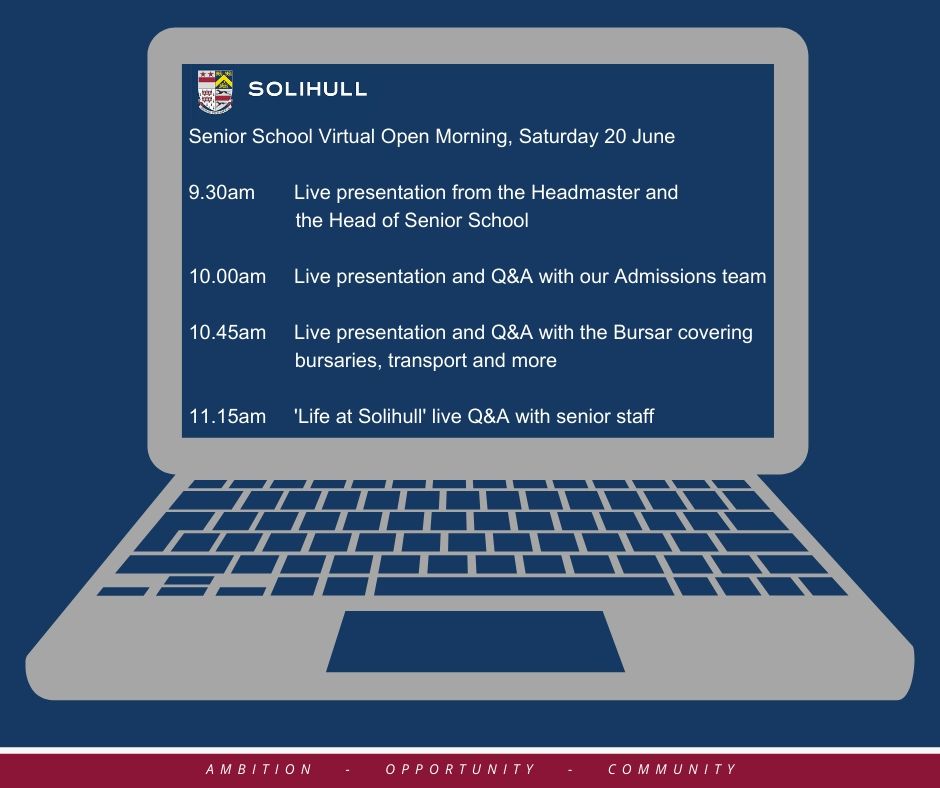 This Virtual Open Morning page also provides an insight into life and opportunities at Solihull including:
Our 'Big 6' presentations
Our Novus Curriculum video
A message from our Head of Wellbeing & Personal Development
A video of 'at home' performances taken from our 'Informal Virtual Music Concerts'
A 'Taste of Life at Solihull' film
PDF brochures featuring photo galleries of 'Life at Solihull' and 'In and around Solihull'
A PDF gallery of 'Sport at Solihull'
A copy of our 'excellent' ISI Inspection Report from November 2019
A document of Admissions FAQs
INTRODUCTION TO SOLIHULL'S 'BIG 6'
Solihull's 'Big 6'
academic enrichment
community relations
drama
MUSIC
OUTDOOR EDUCATION
SPORT, HEALTH & FITNESS
novus curriculum
WELLBEING & PERSONAL DEVELOPMENT
informal virtual music concert
Do also browse our main website pages to explore other areas of our school.
We have compiled a list of Virtual Open Morning contacts below. Please do email any departmental specific questions to the relevant member of Senior School staff.
| Senior School Virtual Open Morning Contacts | Email |
| --- | --- |
| Mr Richard Bate, Bursar | bater@solsch.org.uk |
| Mrs Rhian Chillcott, Head of Careers | careers@solsch.org.uk |
| Mr Tom Emmet, Assistant Head Pastoral | pastoral@solsch.org.uk |
| Mrs Hannah Fair, Assistant Head Co-curricular | fairh@solsch.org.uk |
| Mrs Daniele Harford- Fox, Deputy Head, Teaching and Innovation | harfordd@SolSch.org.uk |
| Mrs Eleanor Hurst, Head of Learning Support | hurste@solsch.org.uk |
| Mr David Morgan, Deputy Headmaster, Academic and Staff | morgand@solsch.org.uk |
| Mrs Nicolette Mullan, Admissions Registrar | mullann@solsch.org.uk |
| Ms Lucy Lunt, Director of Development & Alumni Relations | luntl@solsch.org.uk |
| Mrs Louise Rooney, Head of Wellbeing & Personal Development | rooneyl@solsch.org.uk |
We hope you enjoyed our Virtual Open Morning and we look forward to welcoming you to Solihull soon.
Details of our next Open Event will be shared in due course.